The event: LEAP 2023, Riyadh 6-9 February 2023 with 100,000+ tech innovators and leading experts from around the world.

Part One: Mo Hamdy's recap
Bexprt CEO, Mo Hamdy, shares his thoughts on key takeaways and key announcements he thinks will make a significant difference in the Saudi market.
"What a week! The first time I've attended a big tech event in Riyadh, and participated as one of the exhibitors. I was impressed with the "real business transformation" and digital enablement happening across all industries in the Kingdom, and the growth happening in such a promising market.
There were a number of stand-out announcements during the event that caught my attention,
📌Amazon Web Services (AWS) & Mobily digital transformation for providing cloud computing agreement.
📌AWS in partnership with #McitGovSa establishing the first-of-a-kind local competence development training centre.
📌AWS & Zain KSA strategic agreement to accelerate the enablement of #5Gservice to businesses and consumers via #AWScloud.
📌Oracle to invest $1.5Bn in Saudi by opening a new local data centre.
📌Microsoft announces that they will have a local region in Saudi.
📌Meeting great Saudi entrepreneurs at the start-up's hall and garage hall for "Pre-seed/Seed" phase companies.
📌Above all, the Kingdom has secured investments worth $9bn in ICT industry during the event.
These announcements demonstrate how strong, solid, and promising the Saudi market is, and the acceleration of public cloud adoption in the Saudi market across all industries. It will be interesting to see how other hyper-scalers respond to these moves, particularly the announcements of Oracle and Microsoft, and the pace at which they implement.
At Bexprt, we are fortunate to be actively involved in this transformational movement, and contribute our fair share as a Cloud and Cyber Security professional services provider locally in Saudi.
Our decision to place our first international branch outside of England, in Saudi, and the actions we have taken that have led us to become the fastest growing partner locally for AWS, demonstrates how serious the Bexprt team are about this country, and the opportunities we see in the Kingdom."

Part Two: Bexprt highlights during LEAP week in Riyadh
Bexprt & LEAP23: The Bexprt team was one of just 12 companies selected by AWS to be part of their exhibition space in Hall 1 at LEAP.
Below, top left: Ghaith Hamza and Mo Hamdy from Bexprt, and top right on the right, Mo Hamdy and Ahmed Okasha from Bexprt meet with clients on the AWS exhibition stand.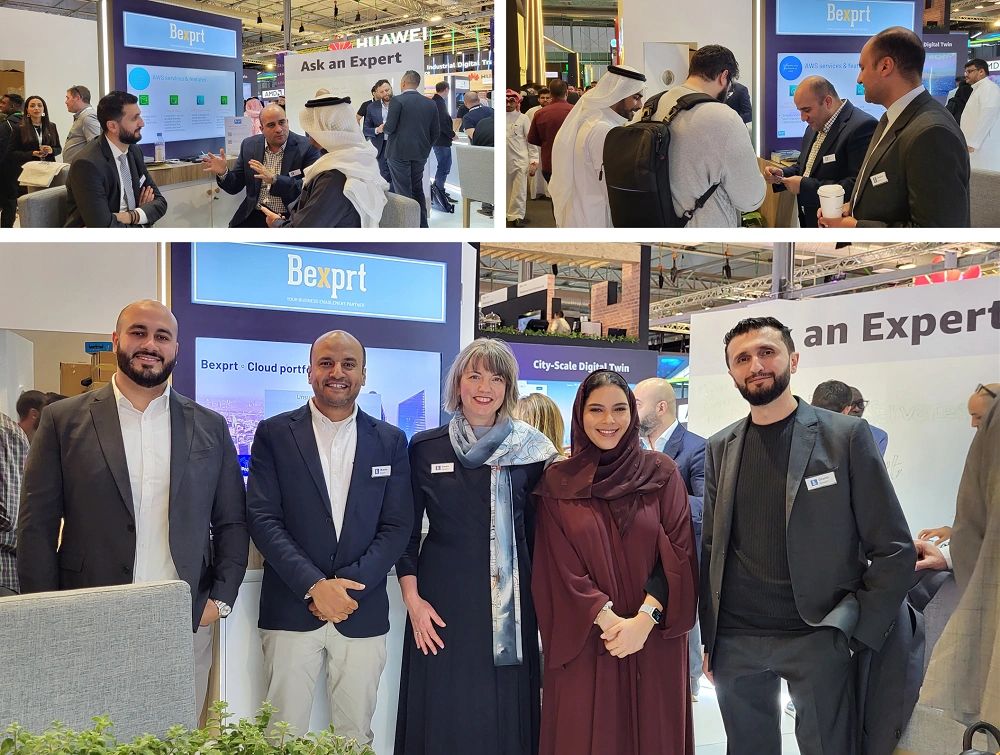 Above: Bexprt team members Ayman ElBetaway, Ahmad Okasha, Gwen Edwards, Rawan Khaled, Ghaith Hamza.
Bexprt & UK Department for International Trade (now UK Department for Business & Trade)
At LEAP, UK technology company Bexprt celebrated recent successes with their partner Amazon Web Services (AWS), and acknowledged the support of the UK Embassy & Department for International Trade (DIT) team in opening their first overseas company and office in Riyadh in December. In January, Bexprt became the fastest-growing AWS partner in the region, the fastest to achieve AWS Select Partner status, and also achieved AWS Public Sector Partner status in the same week! Wonderful to celebrate this success together with, left to right,
Anver Vanker, AWS Manager, Solution Architect
Abdulrahman Alshaker, AWS Territory Manager
Ayman Eltohamy, AWS Head of SMBs MENA & Turkey
Mohammed Laimon, AWS Partner Development Manager KSA
Mohamed Hamdy, Bexprt Founder & CEO
His Excellency UK Ambassador to KSA Neil Crompton
Kabir Rahman, COO & Head of Trade, British Embassy Riyadh
Gwen Edwards, Bexprt Marketing Director.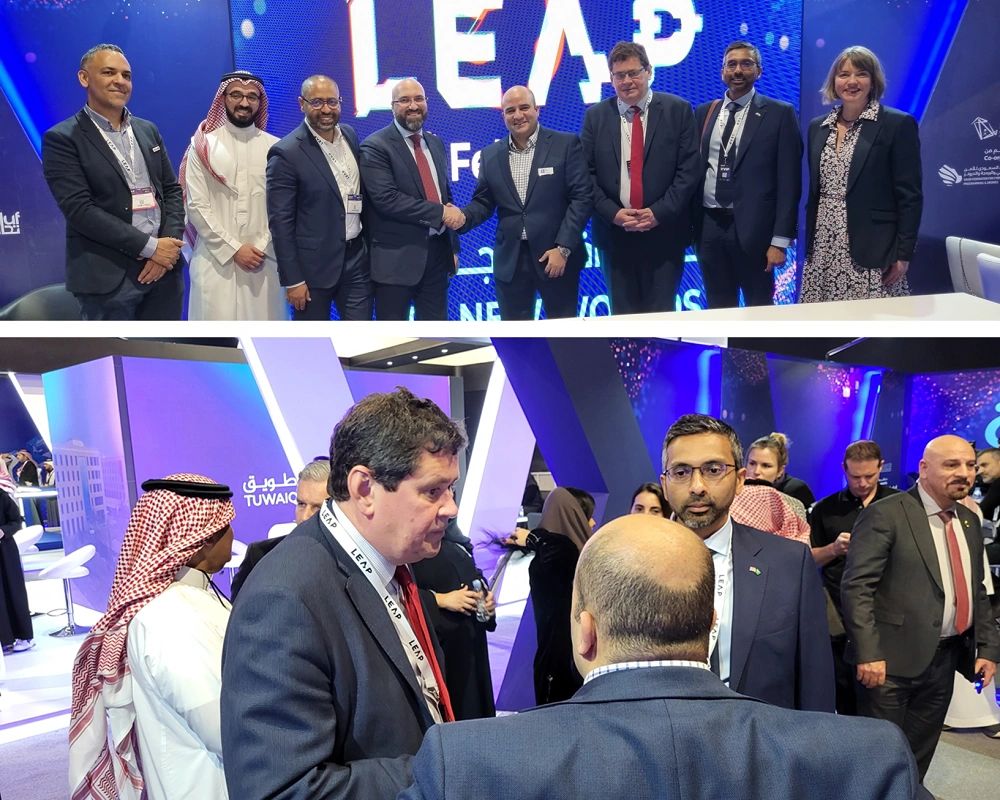 Above: His Excellency UK Ambassador to KSA Neil Crompton in discussion with (back to camera) Mohamed Hamdy, Bexprt Founder & CEO, and Kabir Rahman, COO & Head of Trade, British Embassy Riyadh.
Bexprt & UK Embassy, Riyadh
The Bexprt team joined other UK businesses exhibiting at LEAP, local Entrepreneurs and businesses, and Saudi Government Ministries & Agencies at the UK Embassy Reception in the gardens of the Embassy in Riyadh.
Below left: Yasser Elsabrouty (Digis Squared) listens as Bexprt CEO Mo Hamdy discusses a point with UK Minister of Investment, Lord Dominic Johnson.