To mark the one-year anniversary of the Partnership Agreement between Bexprt and AWS, Gwen Edwards, Bexprt CMO, and Mahmoud ElZayet, Director of Cloud, share their thoughts on the key milestones achieved together with AWS over the last 12 months.

"Bexprt's Partnership with AWS formally started one year ago, in November 2022. It has been a hugely significant year for the Bexprt team and the business, as we expanded our capabilities from telco and telco cloud, into working with hyperscalers directly.
"Choosing to partner with AWS, the world's leading cloud provider, with over 32% of the global market, was tightly interwoven with the decision to open a business in Riyadh. To be one of the businesses working to help deliver the Vision 2030 digital transformation capabilities, in a market that is growing exponentially, and a country that is rapidly changing, is very exciting and provides a lot of commercial and innovation opportunities. Opening a business in Saudi Arabia has enabled us to recruit a strong local team, with a deep understanding of the local market and technologies, able to work directly with local businesses in the Kingdom.
"In starting the journey with AWS, we found that their onboarding processes were very comprehensive and straightforward, and really optimized. The AWS Partner Team worked very closely with our team to ensure we were quickly up to speed and integrated into their systems.
"With local AWS regional support, plus direct access to the AWS global teams, we have been able to ensure that our customers across the EMEA region have access to the full breadth of AWS capabilities. Together, we have developed joint business plans aligned with our business targets, and made joint investments in our go to market plans for aligned target addressable markets – the strong support of AWS Marketing is very much appreciated.

"From a technical perspective, AWS has provided us with access to technologies that have enabled us to accelerate the development of our own AI and Generative AI solutions, so that we can deliver really innovative solutions to our customers, aligned with their use cases, building on AWS capabilities.

"The first year of partnership has seen Bexprt move rapidly from being an AWS Select Tier Service Partner, to achieving Amazon RDS Service Delivery Partner, AWS Solution Provider Partner (Reseller), AWS Advanced Partner, and most recently, graduating from the AWS Accelerated Partner Delivery Program. And, there is much more in the pipeline!
"This one-year anniversary is a good time to say a big thank you to the AWS Partner Team, and everyone at AWS who has helped us on this journey. We look forward to achieving even more in our second year of working together!"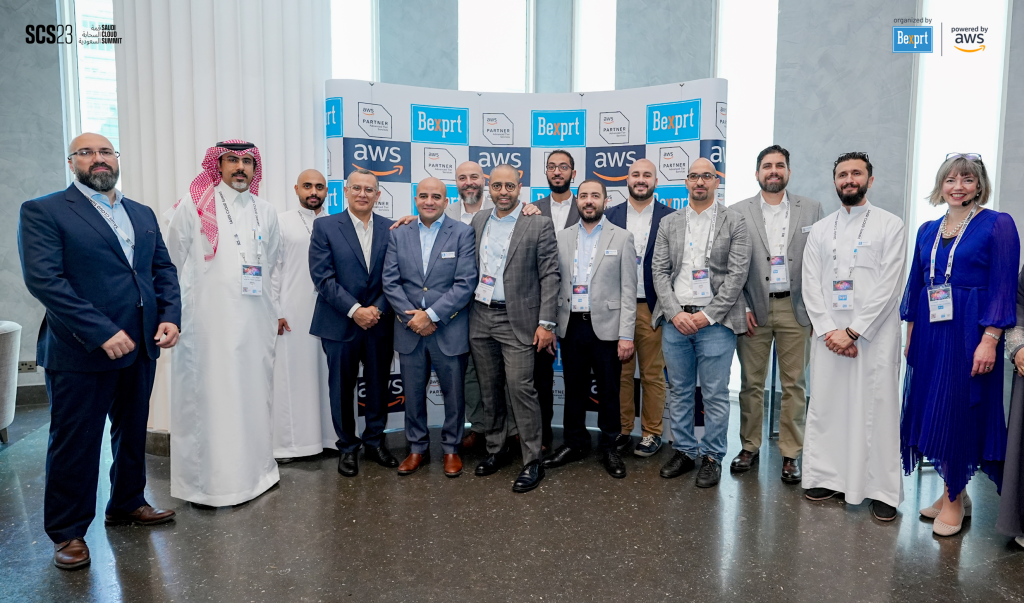 Saudi Cloud Summit 2023: Organized by Bexprt, Powered by AWS. Some of the Bexprt and AWS team, left to right,
Mohammed Laimon, AWS Senior Partner Development Manager Saudi Arabia & Bahrain.
Abdulaziz Al Meer, AWS Head of Public Sector Partners Saudi Arabia & Bahrain.
Abdulrhman Khormi, Bexprt Cloud Solutions Architect.
Yasser Hassan, AWS Regional General Manager Middle East, North Africa and Turkey.
Mo Hamdy, Bexprt Founder & CEO.
Steven Mustafa, AWS Partner SA Manager for EEM.
Ayman El-Tohamy, AWS Head of SMB MENA & Turkey.
Yousef Allahham, Bexprt Pre-Sales Engineer.
Mahmoud ElZayet, Bexprt Director of Cloud.
Ayman ElBataway, Bexprt Core Networks Deployment Technical Lead.
Alaa Eddin Kilani, AWS Senior Partner Management Solution Architect.
Mohamed El-Kerdany, Bexprt Head of Development.
Ghaith Hamza, Bexprt Business Development Manager.
Gwen Edwards, Bexprt CMO.